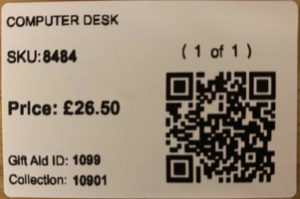 Richmond Furniture Scheme's aims are to provide affordable
furniture, reduce waste and provide volunteering experience for the borough. In
doing this, we have been working tremendously hard to use technology in a smart
and affordable way.
The web shop is the culmination of work that started two and
half years ago to develop a more integrated way of working.  We wanted to simplify sales, reduce administration, improve Gift Aid process, and create a web shop integrated with our warehouse.
With the help of volunteers, in particular Trustee Derek
Papworth, the Scheme created tools that manage donated items from the point of receipt
through to the point of delivery. The process tracks Gift Aid available to
claim for each item and we have a suite of reporting tools and applications that
manage the administration.
In line with our aims, we built the web shop so that people in
need (those with grants and on income support) can select furniture and arrange
any payment necessary in person.  The web
shop also enables more people to access us without having to make the journey
to Twickenham to see items in person.
If you would like to know more about the scheme (furniture
donation, sales, reuse, recycling and volunteering), please see www.rfsonline.co.uk,
call us during business hours 02087554665, email us at admin@rfsonline.co.uk, or, even better,
visit us at 1a Fortescue Avenue, Twickenham, TW2 5LS.